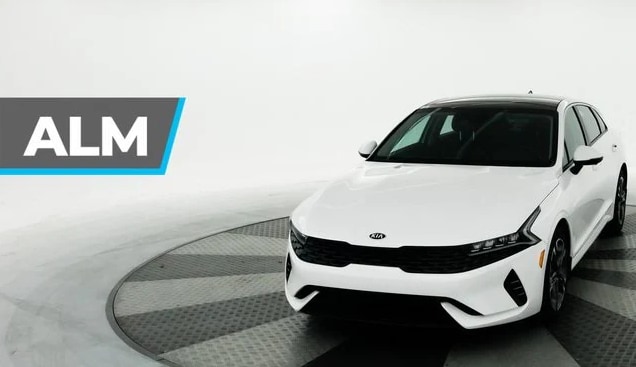 The Kia K5 is an affordable, reliable sedan that has the power of a sports car. Its sleek and stylish exterior makes it stand out in any crowd, especially with its 17-inch alloy wheels. The interior is roomy enough to seat five adults comfortably without feeling cramped but small enough to be still easy to maneuver.
Many features on this vehicle make it worth every penny spent, including a dual climate control system with air conditioning, rear camera for backing up safely, and heated steering wheel for winter driving.
The Kia K5 amazes you with the following fantastic luxury features:
Heated Steering Wheel
This makes driving in cold winter weather much more comfortable, offering you warmth without sacrificing control over your steering wheel.
With this feature, you can lock in heat at the front to keep your palms warm.
Or, if you prefer, you can switch it to the rear for heated grips that are perfect for the driver and front passenger. The air-conditioned seats are also very comfortable.
Dual Climate Control System with Air Conditioning
This luxury feature allows you to maintain a comfortable temperature in your vehicle no matter the season. It works like this: when it's warm outside, the air conditioning kicks on. When it's cold outside, the heater warms up your car. This helps prevent both extremes from being uncomfortable for passengers and prolongs your vehicle's life by not overworking one system.
Immobilizer with Transponder Key
The keyless entry system on this vehicle is one of its best features because the doors will automatically unlock when you are about to open them.
Anti-Lock Braking System (ABS)
This prevents the wheels from locking up when you need to brake suddenly. This is important because it allows for safe braking and gives you precise control over your speed at all times, even in bad weather conditions like rain or snow.
Rear Camera with Guidelines
The guidelines are displayed on the seven-inch touchscreen; they're there to guide you when backing up so you don't hit anything or anyone behind you. With this feature, reversing out of tricky parking spots or negotiating tight turns becomes much easier than before. It offers a good 3-hundred and sixty degrees view around the vehicle, so city driving isn't as much anymore.
Leather Seats
Leather seats are not only more comfortable than fabric or vinyl but can also make your car much hotter or colder, depending on the season. This is especially nice in winter when you can warm up quickly with the heated seats.
Cruise Control Stick Shift Only
This luxury feature helps you maintain an even traveling speed without having to keep your foot on the gas pedal constantly, providing you with much-needed relaxation during long road trips.
Wrapping it Up
The Kia K5 has a lot of fantastic features that make it worth every penny. If you're in the market for a vehicle that is reliable, luxurious, and affordable, then there's nothing better than this one.
The smooth ride and 17-inch alloy wheels make driving an absolute pleasure. The leather interior offers a comfortable seating arrangement for up to five passengers.
Other great luxury features include a heated steering wheel, a dual climate control system with air conditioning and a rear camera with guidelines that assist when backing up safely.
This car does not disappoint with all the standard features you would expect from any full-size sedan, such as a CD player and an anti-lock braking system (ABS)! In short, if you're looking for a luxury car that is safe, affordable, and reliable, then the Kia K5 is for you.

Looking to get a Kia K5? Check out our available inventory.