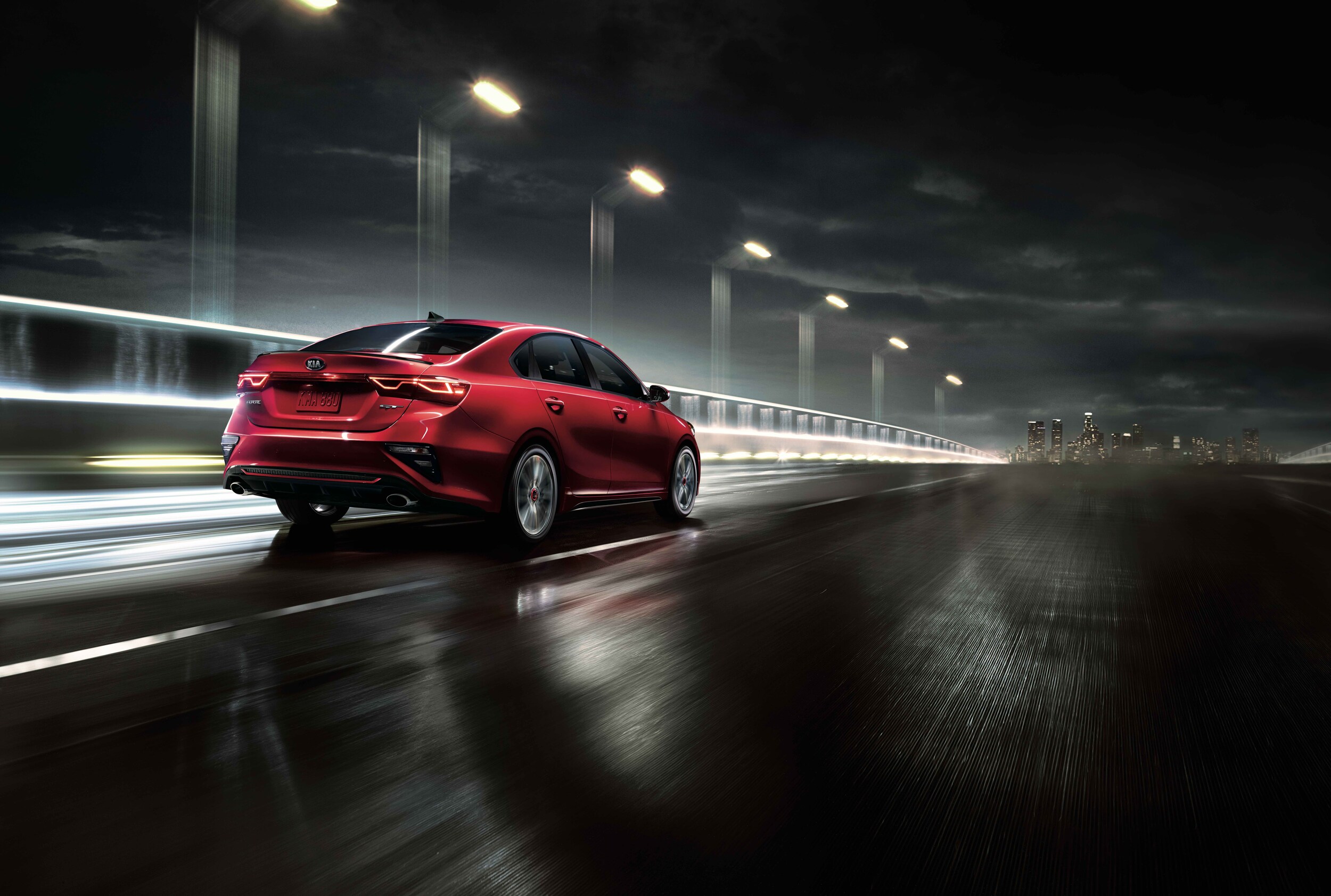 If you're looking for a car that looks good, is comfortable to sit in, and has good fuel economy, you don't need to look any further than the 2022 Kia Forte available at ALM Kia South.
Although it looks like a sports sedan from the outside, it's actually a very value-priced car. You can opt for a 147-hp engine that has decent acceleration, or opt for the 201-hp GT if you're looking for a bit more performance.
What's so special about the 2022 Forte?
The Forte looks incredibly stylish. It's sure to snare eyeballs wherever you drive it, thanks to the updated front and rear bumpers and newer lighting and wheels.
You can opt for a massive 10.3 inch touchscreen infotainment control center. Apple's Airplay and Android Auto are built-in as a standard feature.
All Forte models have plenty of safety features built-in. Most notable is the lane-following assist system to make sure you don't inadvertently veer off into the neighboring lane.
Optionally, you can get the adaptive cruise control system that combines with maps to automatically adjust your speed according to local speed limits.
In case you have the budget and opt for the GT model, you'll get a more powerful engine and the full works when it comes to luxury: sport seats, 18-inch wheels, and wireless smartphone charging.
Excellent fuel economy
The Kia Forte has excellent fuel economy. The GT model naturally uses a little more fuel, but the base model has a highway efficiency of 40 miles per gallon, and an average economy of 33 miles per gallon.
You'll be able to fill up a single tank and drive for miles and miles on the highway!
Comfort and storage space
The Forte's interior is very well-thought-out and comfortable. Two adults can easily sit in the back. If you opt for the base version, you get all the basic comforts you'd expect in a 2022 car.
The upgraded models have options for heated front seats.
There's also plenty of storage space as you can fit 6 to 7 carry-on bags with all the seats up.
Engine
You can choose from two engine options in the Kia Forte: a 2.0 liter 4-cylinder(147 HP) or a 1.6 liter 4-cylinder(201hp).
Naturally, the 2.0-liter engine will perform a little less than the 1.6-liter model. So even though the car looks like a sporty sedan from the outside, the engine performance does not really match the exterior.
Still, the main selling point of the Forte is the comfort and the looks, not the performance!
Safety
We mentioned that the Forte has lane assistance and optional adaptive cruise control. There's also a forward-collision warning system with auto-emergency braking.
Aside from that, all other mandated features such as front and side airbags are built-in.
Final thoughts
The 2022 Kia Forte is an economically-priced car that looks great, is very comfortable, and gives great mileage. If you're in the market for something that makes a statement but doesn't break the bank, the Forte is an excellent choice.