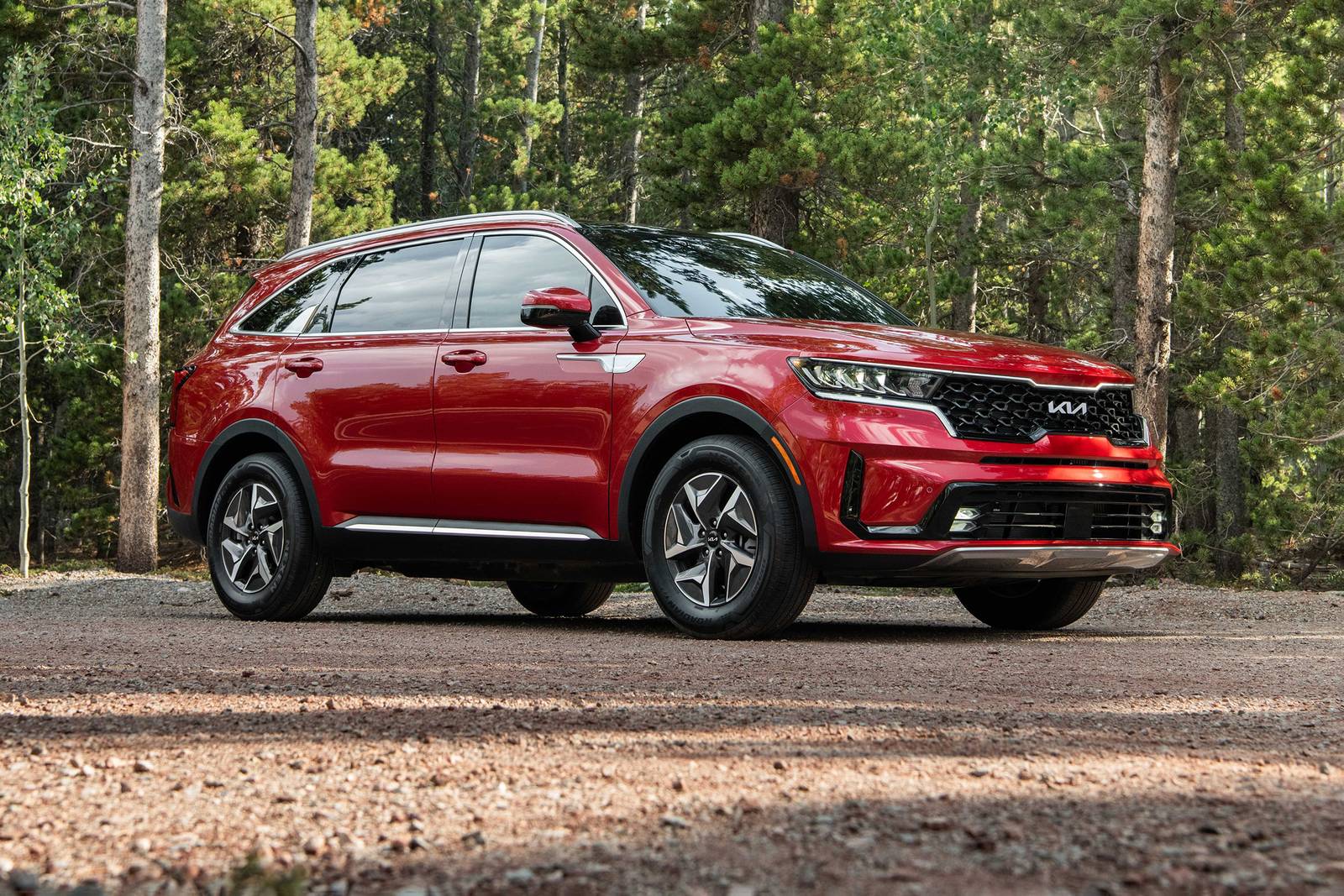 Overview
The newest iteration of Kia's Sorento is all about options. This applies to trim levels, customizable features, and even the interior of the car itself on a day-to-day basis. If you're looking for a family SUV but you're having a hard time finding the one perfect for you, Kia has you covered. The
2022 Kia Sorento
can function as a smaller version of the three-row Telluride, with only a slightly smaller amount of legroom than its counterpart. For maximum comfort, you can also remove one row for a roomy five-seater. No matter what you choose, the 2022 Kia Sorento provides an ample amount of ruggedness and class for any driver.
The
2022 Kia Sorento
offers plenty of new features. The most notable addition to the lineup is the plug-in hybrid powertrain edition, which can save you tons of money on fuel costs. Most versions now have a 10.2-inch touchscreen, and more models have more optional features. Let's dive into more details.
Features & Specs

The Kia Sorento's exterior is rugged and classy, and the interior matches the aesthetic. The Sorento impresses with a touchscreen infotainment system, ambient lighting, and a variety of shapely storage areas like door cubbies. Obviously, the front and back rows are standard, but the second-row seats can be swapped for captain's chairs for maximum comfort. It's easy to customize the interior to match the number of passengers you're carrying. There isn't quite as much storage space as the Telluride, but it comes close.
Kia is famous for its ten-year or 100,000-mile powertrain warranty and five-year or 60,000-mile limited warranty, which can add some peace of mind to potential buyers. However, its accident prevention technology will hopefully prevent you from needing it. The
Kia Sorento
sports automatic emergency braking, lane-keeping assistance, lane departure warning, and forward-collision warning on all models. Blind-spot monitoring and rear cross-traffic alerts are also available.
The Kia Sorento performed well for both the National Highway Traffic Safety Administration and the Insurance Institute for Highway Safety. The NHTSA awarded it a 4/5 overall crash test rating, with a full 5/5 for side crashes and a 4/5 for frontal crashes and rollovers. The IIHS gave it "Good" marks for every subcategory of crashworthiness, citing only small issues with the ease of use on LATCH child seat anchors.

Entertainment Specs
As you might expect from Kia, the Sorento comes with both Android Auto and Apple CarPlay compatibility no matter the model. The LX base model is outfitted with an 8-inch screen display, but you can upgrade to a 10.3-inch screen if you want. For higher trim levels, this comes standard. The Kia Sorento can also be upgraded to include a wireless charging pad, a 12-speaker Bose sound system, and a rear-seat entertainment screen.
Mechanical Specs
There are plenty of engine options to match your needs. A 191-hp 2.5-liter four-cylinder engine comes standard, but speedsters can feel free to upgrade to the 281-hp turbocharged 2.5-liter four-cylinder engine. Regardless of your choice, you'll work with an eight-speed automatic transmission. If you go for the hybrid model, however, you'll go with a six-speed automatic transmission.
Should you go the hybrid route, you'll have a couple of options. The eco-friendly hybrid uses both a turbo 1.6-liter four-cylinder gas engine and a 44.0-kW electric motor, combining for 227 horsepower. Front-wheel drive will be your only option here. The new plug-in hybrid features the same gas engine specs, but it boasts an impressive 261 combined horsepower with its 66.8-kW electric motor. Your only option for this model is an all-wheel drive.
The base Kia Sorento model gets 24 mpg in the city and 29 mpg on the highway, while the turbocharged edition gets 22 mpg and 35 mpg respectively. The most efficient choice is the base hybrid with an impressive 39/35 mpg split. The plug-in comes in a little less with 35/33 mpg respectively.

Top Reasons to Buy a 2022 Kia Sorento
The
2022 Kia Sorento
is the perfect car for someone looking for a highly customizable SUV. While most models by Kia or other manufacturers come with four or five trim options, the Kia Sorento has a whopping twelve to choose from when including the various hybrid models. This doesn't even account for the wide variety of optional features. The Kia Sorento, particularly its hybrid models, also have extremely impressive fuel efficiencies. This is especially true considering it's an SUV. Check out our inventory of 2022 Kia Sorentos today only at ALM Kia South, the best
Kia dealership in Atlanta
.