Why You Should Buy a Kia Sorento
Why You Should Buy a KIA Sorento
A Brief History of the KIA Sorento
The KIA Sorento was introduced in 2002 and is a family friendly, reliable SUV with a price tag of under $25,000 in our dealership. It blends both value and quality and it has secured its spot as one of the safest 25 cars with the Best Safety Features.  It is one of the most underrated SUVs on the market boasting updated styling both inside and outside the vehicle.  The first design had a LX trim as well as alloy wheels and attractive interior. Since then there have been upgrades to newer models like V6 engines with better safety enhancements and much more.
KIA Sorento Appearance Over Time
When we review this vehicle over time you will notice that the models have become more streamlined with more family friendly features, comfortable interiors and powertrain options.
One of the more notable features that added to the appearance was the new trim and UVO voice activated control interface, as well as some interior and exterior upgrades. Currently there are six options when picking a Sorento trim.  All Sorentos have six airbags, stability control, and a rearview camera.
ALM has inventory of KIA Sorentos at competitive prices at our car dealership located in Union City GA.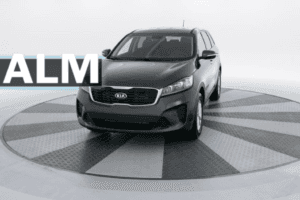 Some of the KIA Sorento features:
Hybrid Technology – The latest KIA Sorento comes with a 3.3L GDI Dual CVVT DOHC 24 Valve V6 engine as well as an 8-speed automatic sports transmission. It has gas-pressurized shock absorbers as well as front and rear anti-roll bars which makes it a safer vehicle to drive. From the exterior, it has 19" chrome finish alloy wheels, deep tinted glass as well as clear coat paint. The technology in this vehicle is what you should look out for.
Models – The Kia Sorento is available at seven well-equipped trim levels: L, LX, LX V6, EX 2.0T, EX V6, SX, and SX Limited. The standard 2.4-liter 16-valve four-cylinder engine paired to an electronically controlled six-speed automatic transmission with overdrive earns 185 horsepower and 178 lb-ft of torque. The available 3.3-liter V6 churns out 290 horsepower, while the available 2.0-.liter 16-valve inline four-cylinder engine earns a horsepower rating of 240.
Efficiency – The KIA Sorento is very economical and gets 24 miles per gallon in the city and 20MPG on the highway.  Its fuel tank holds about 19 gallons. It's an all-wheel drive and can hold up to 7 passengers.
Entertainment – When it comes to entertainment the Sorento is well equipped with premium sound and UVO services as well as Apple Car Play, Android Auto, MP3, compensated volume control and full streaming audio. It also has 2 LCD monitors in front which is a great added benefit.
Major Safety Control – Since safety is very important on the road this SUV has it all, electronic stability control, side impact beams, passenger and driver seat mounted airbags, blind spot sensors, parking sensors, rear child safety locks and more.
Style – 2.4L LX front and all-wheel drive
Inventory Prices – New starting at $27,200
MPG – 24
Engine – 185 hp, 2.4 liter
Trans – 6 speed automatic with overdrive and auto manual
Drive – Front and ALL wheel drive
Colors – 8 exterior choices
Seats – 5-7
Style – 3.3L EX front and all-wheel drive
Inventory Prices – New starting at $34,200
MPG – 21
Engine – 290 hp, 3.3 liter V-6
Trans – 6 speed automatic with overdrive and auto manual
Drive – Front and ALL wheel drive
Colors – 9 exterior choices
Seats – 7
Take a Test Drive
Come in today and test drive a KIA Sorento today.  Its appealing price and high quality will put it high on your list of options.   Our friendly sales team are available to walk you through all the features this vehicle has to offer, as well as give you the best options for both pricing and models to suit your needs.